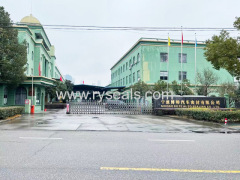 Ningbo Bote Gasket Co., Ltd. (formerly Cixi Sealing Spacer Material Factory) was established in 1992. It covers an area of 20,000 square meter.In 2000, established Ningbo Guangyi sealing material Co., Ltd. as Export sub-company, specializing in the R&D, production, and service of gaskets and packing in automobile, petroleum, shipbuilding, metallurgy, chemical industry, machinery and other related fields.

The company has advanced technology, fully automated production equipment, unique production technology and perfect quality management system. It passed ISO 9001 quality certification in 1998 and ISO / TS 16949 quality certification in 2003 to strictly control product quality.

We have many steady customers from all over the world; include USA, Canada, Germany, Japan, Korean, Italy, Saudi Arabia etc. over 20 countries and regions.
With the concept of "pioneering, enterprising, realistic and innovative", the company provides high-quality products and first-class services for new and old customers all over the world!

We sincerely welcome customers to visit and cooperate with us.

Our main products :
Semi-metallic Gaskets: Spiral Wound Gaskets, Kammprofile Gaskets, Corrugated Gaskets, Double Jacked Gaskets
Non-metallic Gaskets:Compressed No-asbestos Gaskets,PTFE Gaskets,Graphite Gaskets,Asbestos Gaskets
Metallic Gaskets: Ring joint gaskets
Gasket sheets:Non asbestos gasket sheet, Reinforced graphite gasket, Non asbestos compressed sheet, Non asbestos paper etc.
Gland packing: PTFE packing, Aramid packing, Graphite packing, Carbon fiber Packing, Synthetic fiber packing, Mineral fiber packing etc.
Raw Material : PTFE yarn, GFO yarn, Graphite yarn, Carbon yarn, Aramid yarn, Silicon rope etc.SS tape, Graphite tape, PTFE tape, Metal bending strip, Metal Kammprofile strip, tanged SS sheet
Auto gasket: Exhaust Muffler Seal Ring, Auto Exhaust Muffler Gasket, Motorcycle gasket.